Natalia De Barbaro's KIND COMPANION sold to Russia (EKSMO)!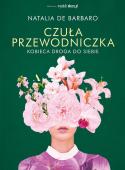 Russian rights to bestselling self-help KIND COMPANION by Natalia De Barbaro to Anna Neugodnikova at Eksmo, by Piotr Wawrzenczyk at Book/lab Literary Agency for Agora.
On behalf of AGORA, we proudly represent translation rights to a huge bestseller from our market (almost 200 000 copies sold right now!) – KIND COMPANION. A Woman's Journey Within by Natalia de Barbaro.
https://www.empik.com/czula-przewodniczka-kobieca-droga-do-siebie-de-barbaro-natalia,p1256816410,ksiazka-p
https://lubimyczytac.pl/ksiazka/4955733/czula-przewodniczka-kobieca-droga-do-siebie

First two translation deals are already closed (Croatia, Poetika and Russia, Eksmo) and we believe this one could be a really successful book in many territories.

It's absolutely universal and important self-help and we know all how strong this genre is right now.

***
Why do we not live the way we would wish to?
Why do we not do the things which are good for us – even though we know what would serve us well?
Why do we stick to ancient patterns of behaviours alien to us, as if our lives were ruled by some ill-willed guide?
Why do we deny our own true selves?

This book is all about finding a route back into our inner core truth. There are many e-books and audiobooks on the market designed to support our personal development, improve confidence and both our personal and professional capacities. Is any of those offerings, however, as filled with tenderness in the way it looks at women's experience as in this book by the psychologist Natalia de Barbaro? Trapped in roles imposed upon us by customs and communities, we are afraid to break out of this cursed, vicious circle. We choose stagnation instead of rejection. The security of what we know instead of fear of that which is new. Following advice and opinions from all around – even those shared in good faith – we fail to listen to our own selves. Perhaps, just like so many of us, you need a guide to aid you along your woman's path... Someone who will make you realise you do not need to fit ideals in order to live a happy life. Personal and professional development are not all about avoiding mistakes. Natalia de Barbaro's book will help you see how to wisely make use of female intuition and rediscover your own inner Kind Companion.

"This is a book about finding the way back into ourselves. This is our task: yours and mine. I feel you are already upon this path: I too am upon mine. I wrote this book to help us walk along it together awhile"
– Natalia de Barbaro.
"This book was a revelation for me. The Kind Companion by Natalia de Barbaro found me at the perfect moment and after reading just a few pages I knew it would become one of the most important books I would ever read. This is not a psychological self-help book, but a path which you walk along with Natalia towards your own self. Natalia has all the tools – the knowledge, competence and experience needed to lecture, but she doesn't do any of that. She
is one of us, walking the same path with gentle understanding for herself and her readers. At times, with wondrous, warm objectivity – reading this book, I felt it had been written about me, about the women I know. Those close to me and those ever so far. I laughed and then I cried. And you know what? I think many of you will have the same experiences. This is an incredibly intimate and also universal book. You are not alone, sister. You have Yourself and other Women. This book is a treasure. I would all my female friends to read it, and then you – all the Women I do not yet know. Let it bring you comfort too..."
– Maja Ostaszewska, actress
ABOUT THE AUTHOR
Natalia de Barbaro – Psychologist and columnist writing for Wysokie Obcasy, Poland's most influential women's magazine. For the past four years, she has been leading her unique Own Room (Własny Pokój) workshops for women. Her book A Kind Companion. A Woman's Journey Within rapidly reached and has held on to the top of all key bestseller lists in Poland.
World English Rights & translation available!
Contact: Piotr Wawrzeńczyk, piotr(at)literatura.com.pl
Reader's reviews:
This is surely be the best book about our inner worlds I have read thus far. It changes a great many things in how we see ourselves. I am glad I did not come across it earlier in life – I would not have understood much of what it says... I will definitely reread it again.
Marta

A fascinating book about psychology, helping us discover and learn more about our optimal "selves". You can't just flick through it – this sort of book is best dipped into daily, in stages... A revelation, I shall come back to it time and time again
Beata

The best book in this particular genre I have ever read. Written in the finest sort of style, the author is clearly one of us, capable of making mistakes, yet also capable of finding ways of dealing with so many emotions. All based on specific examples, things we can all apply in our daily lives. I read it with great pleasure, though it aroused powerful emotions. I will return to it for sure. I've already bought more copies for my friends and mom. Recommended.
Kasia

I recommend all women read it.
Maja
Inside each one of us there are three destructive characters: the Snow Queen, the Meek Girl and the Martyr Woman... This book will help you understand and be aware of all your bad habits... Remember, you are all that which is best... The most beautiful flower which must bloom eventually...
Blue Hill

KIND COMPANION. A WOMAN'S JOURNEY WITHIN by Natalia de Barbaro is a remarkable guide for repeated five minute bouts of reading. I promise you getting to grips with this book is not easy. It opens in our minds various sealed boxes. Encouraging us to look inside them and explore their contents. But this has its purpose, the process of finding the Kind Guide within. Natalia de Barbaro shows us where to look and what do with it next. The book has extra pages added for us to make notes. This is a real boon, because it helps us write down our own thoughts and ideas for later on. Each and every woman should have it on her bookshelf.
Marta

9/10
A moving book about the parts of who we all are as women, parts which once noticed and named give us the chance to transform and create new qualities, to choose consciously. The style the book is written in, straightforward and authentic, made me reach for this book. Which is filled with precious ideas, thoughts and concepts which hit me right in the heart. A must-read for each and every woman! How much wisdom is in it, the things we women should all know. Such a shame no one taught me these values and respect for the self when I was young. The audiobook draws you in and leaves you wanting more! Highly recommended to all women.
Magdalena

<-Back
Tweet