David Grossman Wins the 2018 Israel Prize for Literature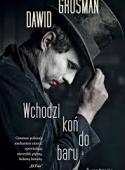 Huge congratulations to David Grossman, who won the Israel Prize for 2018, the most prestigious cultural prize in Israel.
Grossman is 'one of the most moving, profound and influential voices in Israeli literature,' Education Minister Bennett says
In 2015, Grossman withdrew his candidacy for the year's Israel Prize in Literature. He made his decision due to Prime Minister Benjamin Netanyahu's incitment against Israel's senior scientists and authors.
The prize committee, led by Prof. Avner Holtzman, noted that "since the early '80s, Grossman has taken center stage in the Israeli culture scene. He is one of the most profound, moving and influential voices in our literature."
Grossman's novels, stories, documentary writing and children's books too are remarkable for their imagination, profound wisdom, humane sensitivity, moral stance and unique language, the panel stated.
"His books have been translated into dozens of languages, making him one of the best-known, most esteemed and beloved Israeli authors. For all the above reasons, we deemed David Grossman worthy of the Israel Prize for Literature, 5778," the panel added. Specifically, his books have been translated into 42 languages.
<-Back
Tweet