Robert Lewandowski's biography sold to China!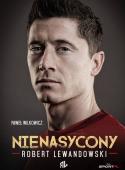 We're thrilled to announce that Chinese simplified rights to Robert Lewandowski's official biography INSATIABLE written by Pawel Wilkowicz have been sold in a pre-empt by Piotr Wawrzenczyk at Book/lab on behalf of Agora Publishing House!
Authorized biography of one of the greatest phenomenon of modern football, a forward who can score four goals against Real Madrid in one match and beat the record of all times scoring five goals within ten minutes in a Bundesliga hit match.
How did it happen that Robert Lewandowski, a boy who was always attracted by two things – scoring goals and roaring engines – won against his destiny? How come the tiniest tot of the children's teams has become a gladiator? How was it possible that a player from the country whose football teams cannot qualify for the Champions League has become the League star and one of its best scorers? How has he risen from the player of the Polish second division club Znicz Pruszków to the key player of Bayern Munich and the captain of the Polish national team just within six years?
One of the best Polish sports journalists reveals fascinating details of Robert Lewandowski's career. He also has a look at behind-the-scenes secrets of professional football to show what a gigantic effort it takes nowadays to achieve the status of a football star.
World English Rights & translation available!
Originally published in Poland by Agora Publishing House
Rights sold:
Chinese simplified: Tianjin People's Publishing House, in a pre-empt (pub date: Spring 2018)
Contact: Piotr Wawrzeńczyk, piotr(at)literatura.com.pl
<-Back
Tweet