THE SPINNING MAN by George Harrar - Exciting Film News!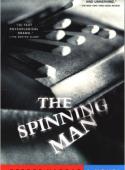 We're very excited to share that the film rights to one of our backlist titles – THE SPINNING MAN by George Harrar – have been optioned by Film Bridge International!
The production is set to get under way next month, and the impressive talent on board includes actors Nikolaj Coster-Waldau, Greg Kinnear, and Emma Roberts. You can view film's official announcement in Variety magazine HERE!
✥✥✥
Mild-mannered philosophy professor Evan Birch spends his days teaching college students to seek truth. Then, one afternoon, he's pulled over by the police, handcuffed, and questioned about the disappearance of a local high school cheerleader. When the missing girl's lipstick turns up in his car, the evidence against him begins to build. Even his wife and sons are having their doubts. And as the investigating officer engages him in a decidedly non-Socratic dialogue, Evan Birch begins to understand that truth may be elusive indeed-but sometimes you have to pick a story and stick with it...
From prize-winning author George Harrar, The Spinning Man offers riveting, whip-smart suspense in a tale in which every word matters-and questions of guilt and innocence are suddenly much more than academic.

<-Back
Tweet