NETANYAHU'S ISRAEL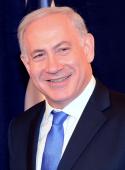 NETANYAHU'S ISRAEL. A Biography of Benjamin Netanyahu / Książka Anshela Pfeffera z pewnością pozwoli lepiej zrozumieć politykę Izraela, jak i poznać jednego z najważniejszych politycznych liderów współczesnego świata!
How does Benjamin Netanyahu do it?

Against the odds, the man who has taken on the Obama White House and the rest of the international community has won a fourth term in office and is on course to becoming Israel's longest-serving prime minister.

Despite the widespread suspicion and resentment he has aroused at home and abroad, Netanyahu has persevered and rebounded from political defeat and personal setback. Defying repeated predictions of his downfall, he has succeeded in captivating a nation and seeing off all his domestic rivals.

Netanyahu's life story has its roots in his father Benzion, the stern historian with impossible expectations of his sons, a childhood in Jerusalem, adolescence and early adulthood in the United States and the death at Entebbe of his elder brother. His initial success as a dashing diplomat and political shining star was soon overshadowed by scandal and a bungled first term as Israel's youngest prime minister.
This is the first biography written for an international audience that collects the threads of Netanyahu's tumultuous personal life, controversial public career and struggle to establish himself as the Jewish state's leader and master of its destiny. It is told with an insider's knowledge of Israel's national psyche and Netanyahu's role on the international stage, by a writer who has spent his career explaining the world to Israelis and interpreting Israel for a global readership.
KONTAKT: piotr@literatura.com.pl
<-Back
Tweet