HUMANS OF NEW YORK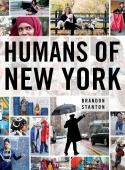 OVER 330,000 COPIES SOLD. #1 NEW YORK TIMES BESTSELLER
24 WEEKS ON NEW YORK TIMES BESTSELLER LIST
OVER NINE MILLION FOLLOWERS ON FACEBOOK/INSTAGRAM/TUMBLR AROUND THE WORLD

I wanted to share the exciting news that during August and September, The United Nations has sent Brandon Stanton on a World Tour. The trip will span over 25,000 miles and circumnavigate the globe. In his words "we hope this trip may in some way help to inspire a global perspective, while bringing awareness to the challenges that we all need to tackle together."
Based on the blog with more than four million loyal fans, a beautiful, heartfelt, funny, and inspiring collection of photographs and stories capturing the spirit of a city
Brandon came to New York four years ago, at age 26, an amateur street photographer with the idea of creating what he calls "a visual census" of the five boroughs: What he has created has now become, in the words of The New York Times: "...an instant publishing phenomenon." HONY has been featured in The Times, The Wall Street Journal, USA Today, Entertainment Weekly, he has appeared on Nightline, CBS This Morning, Fox and Friends, has been a "person of the week" on the ABC Nightly News and a Time Magazine "30 under 30 who have changed the world.
In the last six months HONY's facebook following has quadrupled, from one million followers to four. In Fall 2014, St. Martin's will re-promote and re-distribute HONY along with the FSG publication of LITTLE HUMANS. In 2015 a new major adult book will arrive, with the same lavish production quality and design, with a focus shift (as on the website) to include longer form stories along with the photos.
***
kontakt:
Piotr Wawrzeńczyk
piotr@literatura.com.pl
<-wroc
Tweet