Mona Lisa: A Life Discovered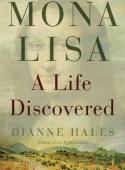 Everyone recognizes her smile. No one knows her story. Meet the woman who became the most famous artistic subject of all time.
A genius immortalized her. A French king paid a fortune for her. An emperor coveted her. Every year millions of visitors trek to view her portrait in the Louvre. Yet for five centuries, all that the world knew was her smile.
Intrigued by new findings confirming the identity of Leonardo's model, I set off on a personal quest for the flesh-and-blood woman in the world's most praised and parodied painting. Who was she, this ordinary woman who rose to such extraordinary fame? Why did the most renowned painter of her time choose her as his model? What became of her? And why does her smile enchant us still?
Mona Lisa Gherardini del Giocondo, we now know with as much certainty as possible after the passage of half a millennium, was a quintessential woman of her times, caught in a whirl of political upheavals, family dramas, and public scandals. Descended from ancient nobles, she was born and baptized in Florence in 1479. Wed to a truculent businessman twice her age, she gave birth to six children and died at age sixty-three in 1542.
Lisa's life spanned the most tumultuous chapters in the history of Florence—decades of war, rebellion, invasion, siege, and conquest. Her story creates an extraordinary tapestry of daily life in a time poised between the medieval and the modern, a vibrant city bursting into fullest bloom, and a culture that redefined the possibilities of man—and of woman. —Dianne Hales
News
A Library Journal nonfiction top pick for August 2014
Featured Alternate of the History Book Club, Book of the Month Club, BOMC2, Military Book Club, Scientific American Book Club, and Quality Paperback Book Club
"I'm enthralled by every page of Dianne Hales's Mona Lisa. The great pleasure of her prose brings Lisa Gherardini's world to vivid life. Anyone who loves art and Italy—and who doesn't?—will adore this book."
—Frances Mayes
"This is cultural history that reads like a detective novel .... a fascinating portrait not just of Lisa Gherardini but also of the vibrant Renaissance world that nurtured both Lisa and Leonardo's painting."
—Ross King
"Entertaining...Combining history, whimsical biography, personal travelogue, and love letter to Italy, this book portrays Lisa Gherardini as a Renaissance Everywoman...an accessible, vivid examination of women's lives in Florence in the period."
—Publishers Weekly
"An engaging account of a Renaissance woman"
—Library Journal
kontakt:
Piotr Wawrzeńczyk
piotr@literatura.com.pl
<-wroc
Tweet